Female Friendly Erotica
Erotic fiction can add a fantastic spark to your erotic imagination. Where porn can arouse the body, erotic fiction also serves to arouse the mind, adding a lot more emotion and intent to your average sex scene. Erotic fiction allows us to deal with sex and sexuality in a deeper way because the story is not constrained by reality. Erotica for women has become increasingly popular in the last decade. There are now a significant number of quality erotic books to choose from. Here's a few of the best.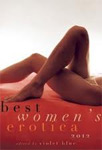 Best Women's Erotica 2012
There's a hungry audience of readers who demand smart, literate, emotionally charged women's erotica--stories that tell the truth about women's sexuality in all its variety and emotional depth, with all its surprises and twists and turns....Best Women's Erotica 2012 is just for these readers. 5-star editor Violet Blue delivers exactly what readers want- fantasy-fueled, pulse-racing reads that push boundaries and are "let's try this as home" aspirational.
Available from:
Amazon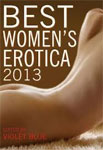 Best Women's Erotica 2013
From the sweetly romantic to the bold and daring, each of the eighteen stories in Best Women's Erotica 2013 provides the spark to your flame. This is a playbook of delectably sexy scenarios to add to your sensual repertoire. Award-winning editor Violet Blue presents "explicit sex at the dizzying heights of exquisite fantasy with the lights on, and you, the reader, get to see everything."
Available from:
Amazon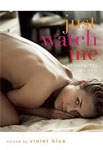 Passion: Erotic Romance For Women
Just Watch Me is a sassy selection of the very best erotica by women, for women. Hand-picked by Violet Blue from the Best Women's Erotica series, these stories should be read nice and slow so that every outrageous scenario can be savored. Intended as inspiration for bedroom adventures, this heady collection of smart, sensual erotic stories is filled with hair-raising, relatable encounters.
Available from:
Amazon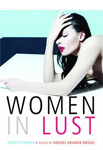 Women In Lust
Lust is urgent, overpowering, and potent. While in real life readers may not always act every time desire calls, in fiction, they can abandon the safety of propriety to seek out lust and sex wherever they find them. The characters in Women in Lust may vary in the objects of their lust, and how they go about acting on it, but what connects them is that pure impulse for a lover. These women seize the opportunities presented to them, and savor the lovers who teach them about themselves...
Available from:
Amazon
Passion: Erotic Romance For Women
Love and sex have always been intimately intertwined, and Passion shows just how well the two can merge. This collection of steamy stories combines rich and explicit imagery with tales of classic love, letting the best writers of erotic romance bring to life tales that can be read aloud in bed. From long lost lovers reunited to love at first sight to romance rekindled, Passion's succulent stories quicken heartbeats and appeal to everyone, from the least to the most romantic of souls.
Available from:
Amazon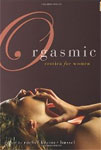 Orgasmic: Erotica For Women
Orgasmic springs from a delicious idea — a book of erotica that explores every possible type of orgasm. This highly original concept could only have come from the delightfully dirty (and brilliant) mind of Rachel Kramer Bussel. Oral sensations, digital delights, tricks with toys, and the old bump and grind are all featured, along with many more imaginative ways to bring a lover to climax. Orgasmic covers it all, from the familiar to the uncharted, opening up a Pandora's Box of scenarios and techniques. This is wonderful women's erotica.
Available from:
Amazon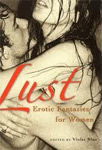 Lust: Erotic Fantasies For Women
Who can live without lust? All day and night, our minds run through delicious possibilities — a silky hand beckoning us into the VIP lounge; a stranger in the backseat; the hunky FedEx driver bringing his package to the door — not to mention our own lascivious memories. Lust is a collection of erotica by and for women, a fierce and joyous celebration of female desire — and the triple-X trouble it gets us into. Edited by well-known author and blogger Violet Blue.
Available from:
Amazon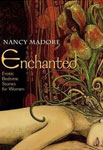 Enchanted: Erotic Bedtime Stories For Women
Allow yourself to be drawn into a fantasy world like no other…where a beautiful princess is seduced into a love triangle with a handsome prince and her winsome maid…where a mysterious gentleman's young bride is deliciously disciplined for her unchecked curiosity…where a naive daughter is married off to a beast of a man whose carnal appetites awaken her budding desire. A unique and decidedly adult twist on thirteen classic fairy tales...
Available from:
Amazon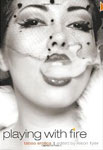 Playing With Fire: Taboo Erotica
Why should you play hard to get when you can play with fire? The forbidden has never been so appealing as it is in Alison Tyler's latest collection. In these incendiary stories that explore the taboo side of erotica, couples go about setting their boundaries aflame. Committed to each other without question, they play out their naughtiest fantasies, pushing the limits of sex, lust, and the imagination as far as they can to please each other.
Available from:
Amazon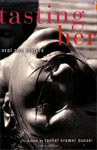 Tasting Her
The primal sense of taking in the essence, taste, smell, and sexy up-closeness of a lover is a powerful aphrodisiac that affects one physically, mentally, and emotionally. Once this special connection is made, the heat of desire, passion, and lust focus before one's eyes and tie arousal directly to them. Tasting Her explores the ultimate joys of oral sex from a distinctly male point of view. If you love the idea of cunnilingus, you'll love this book. Edited by Rachel Kramer Bussel
Available from:
Amazon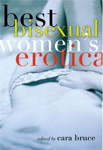 Best Bisexual Women's Erotica
In this short story collection, bi women reveal themselves — and their steamy sex lives — as they really are. From the first entrancing page, readers find themselves intimately involved with the passionate protagonists and their partners. The tales push erotica into the realm of timeless fiction, while featuring salacious glimpses into the lives, loves, and desires of a diverse group of women. Playful, sexy, scintillating, and sometimes heartbreaking, Best Bisexual Women's Erotica delivers a smart, one-handed read for both sexes.
Available from:
Amazon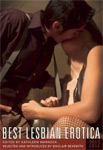 Best Lesbian Erotica 2012
Your every fantasy will be laid bare as you devour these sure, sensual stories. In Best Lesbian Erotica 2012, women are looking for a little bit of everything: love, lust, someone they can trust. In the bath, at the "toy" store, or in the kitchen, they're ready to take a chance that could lead to the experience of a lifetime. Curated by Lammy Award-nominated editor Kathleen Warnock, this volume is long on variety and even longer on beautifully developed characters who are as interesting as they are interested in getting girls.
Available from:
Amazon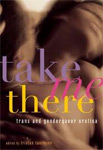 Take Me There: Trans and Genderqueer Erotica
In mainstream media, the erotic identities, sex lives, and fantasies of transgender and genderqueer people are often oversimplified, sensationalized, or invisible. Take Me There is an erotica collection unlike any other that celebrates the pleasure, heat, and diversity of transgender and genderqueer sexualities. The power of seeing and being seen is a central theme in the anthology; it's not simply about passing or not passing (an idea often explored with transgender characters), but about being acknowledged and desired in a sexual context.
Available from:
Amazon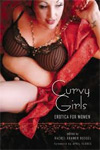 Curvy Girls
In this voluptuously erotic collection, editor and best-selling author Rachel Kramer Bussel showcases the sensual side of having "more to love," from the sexiness of big butts and plus-size corsets to the irresistible allure of pregnant bellies. No aspect of full-figured female sexuality is left unexplored, whether heterosexual or same-sex, raunchy or romantic, femme or butch. From trysts between long-time partners to one-night stands, from vanilla encounters to kinky romps, Curvy Girls is an all-inclusive celebration of the sensuality of larger women—in all their curvy glory.
Available from:
Amazon
Quality E-Books From Established Authors
And... if you must, here's a link to Fifty Shades Of Grey. The first book is kind of OK but the others... rather repetitive and frustrating.
Enjoy Online Erotica
Bright Desire features a growing collection of erotica by me, Ms Naughty, along with other great reading.
For The Girls offers a massive archive of erotic fiction in their member's area along with videos, photos and articles.